Freddo, Yoyo, Bobby, Conrad and Lulu are no longer the dogs they used to be.
When dog trainer Luke Evans found himself bankrupt due to lockdown with 30 acres of dog wonderland and an idle bus, he made it his mission to bring out the best in them.
After all, he believes he owes them.
READ MORE: Australian teenagers battle with Sydney council over proposed BMX track
"I was saved by them as I went through my own struggles," said Luke Evans. A topical matter.
A topical matter first visited Doggy Daycare Farm Trips in March last year, before the coronavirus hit.
Although there have been many bumps in the road since, Mr Evans has not wasted a minute.
"There was a local shelter that was closing and needed help trying to rehome these dogs," Mr Evans said.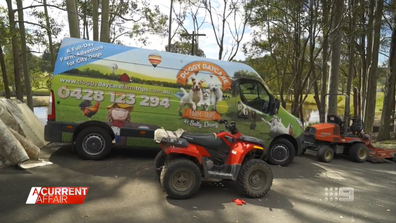 READ MORE: Queensland homes risk being bulldozed for new train line
Unable to work due to restrictions, Mr Evans moved his training classes online and planned to give nine shelter dogs the experience of a trip to the farm.
"We got halfway there and I was going to take Jake back to the shelter and he was laying on my arm looking at me thinking it was the best day of his life and I couldn't do this to him," did he declare. said.
"So I was like 'well mate, you come back with me.'"
Soon all nine dogs found a new home with Mr. Evans.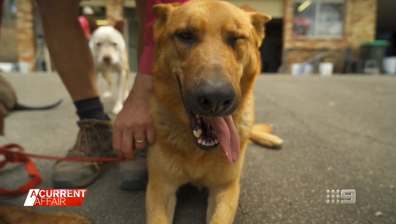 READ MORE: Residents of run-down island 'treated like second-class citizens'
"There were pretty serious issues there with aggression, antisocial behavior, institutionalization in a shelter for many, many months," Mr Evans said.
"We decided to use our skills to train and rehabilitate them."
Four dogs have already been successfully rehomed.
"Giving back to them is naturally what I want to do and it's very gratifying to see them turn around," Mr. Evans said.
Mr. Evans served in the navy for 11 years, first as a clearance diver and later as a special forces officer.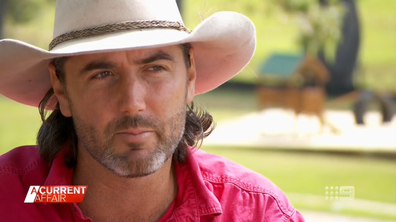 READ MORE: 10 Cent Tom's recycling mission to help save the world
He completed three tours of duty in Iraq and Afghanistan before retiring. Had he served an additional year, Mr. Evans would have been eligible for transitional support from the Navy to retrain for a new career.
Instead, he turned to the dogs and thanks man's best friend for helping save his life.
"I had no preconceived idea of ​​who they were or what they were doing, but I knew that once I connected with them, once I had their trust and they would have trusted, I knew I would bring out their true selves," Evans says.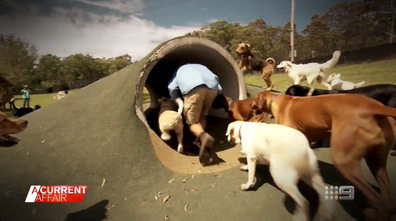 "We have this relationship now where he (Rottweiler, six, Freddo) trusts me and I've taken all his anxiety and worries away and he can just relax and be a dog."
Mr. Evans and fellow dog trainer Jason, who also served in the military, are building a new house for the shelter dogs on the property and plan to take in more unwanted dogs.
"The machines, the tractors, the motorcycles are all out. We've cleaned everything, pressure washed, sealed the concrete, painted the walls," Mr Evans said.
"We're going to put beds in there, lounge chairs, make it human-friendly, and then give the dogs the space they deserve."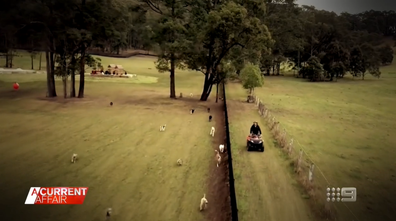 There's never a dull moment at Mr. Evans' farm.
Twelve weeks ago, he and his wife Sam welcomed baby Wolfrick into the family.
"It makes me really, really proud that Luke can use his skills to help these dogs. The dogs have really helped Luke and our family after his military years," Ms Evans said.
She, five years old, follows in the footsteps of her father.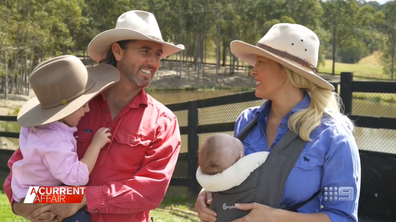 "We tell dogs how to be nice and how to be calm with little kids and everything," Elle said.
"They were never mean to me."
You can visit the Doggy Daycare Farm Trips website or YouTube channel for more information on Mr. Evans' online training for dogs or adopting a shelter dog.
"They have spent their lives in what can only be described as a prison cell. They will be very, very loyal to their owner forever," Mr Evans said.
For more information on farm outings with dog daycare, visit here.