Lakeside townspeople and dog lovers alike had a blissful and colorful day as Kisumu hosted its very first dog show.
The event brought together more than seventy dogs of different breeds including Labradoodles, German Shepherds, Rottweilers, Maltese, Labradors and Golden Retrievers.
The inaugural show drew over 200 fans, who came from all walks of life to witness the auspicious event.
An undated image of three dogs trained by Slavinn Working Dogs in Montana, Texas.
Robb Report
"Our standard is good, the turnout is good and the quality of the dogs is even better, we really have the best quality," said one dog owner.
Dog shows are becoming more and more popular in the country, with dog lovers coming together to organize an annual circuit, in different parts of the country.
The show drew Kisumu into the circuit, with Nairobi, Nakuru, Mombasa and Eldoret hosting such events earlier in the year.
"For an inaugural event, I can say it was a success," said an organizer.
These events highlight issues around keeping dogs as pets, such as their rights and welfare standards, and provide information on how to save and adopt these animals.
According to the East African Kennel Club, a regulatory body responsible for maintaining breed records for all purebred dogs in East Africa, dogs are judged on their appearance – how well they adhere to their breed standard as well. than their obedience to their master during the competition. .
The event gave dog food manufacturers a platform to showcase their products and interact directly with their customers, with some rewarding competition winners with products.
Veterinarians also attended the event and used the platform to connect with clients and prospective dog owners to discuss dog care.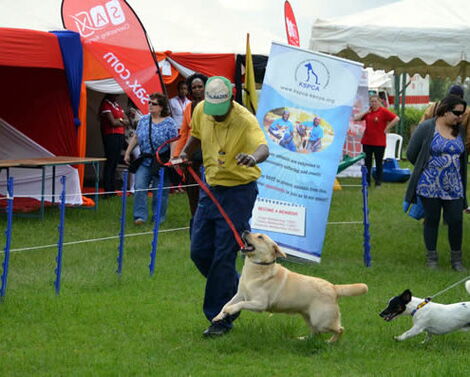 An undated file image of a dog handler pictured at a dog show in Kenya.
Kenyans.co.ke